Intimate exploits
Share - WeChat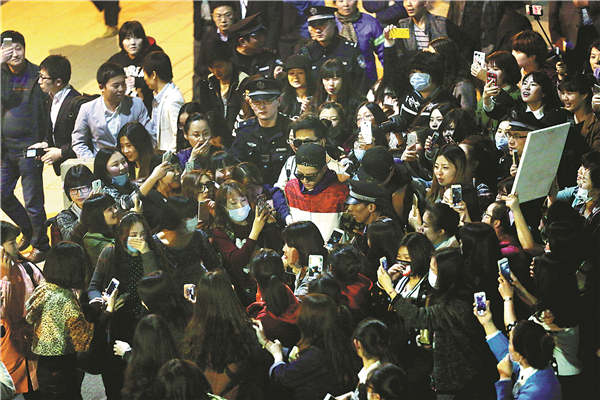 Kris Wu's case prompts debate on female agency, Fang Aiqing reports.
Beijing's Chaoyang District People's Procuratorate formalized the arrest of Chinese Canadian pop star Kris Wu, 30, on suspicion of rape on Monday, 17 days following his initial detention.
Since July, Wu's case has continued to draw attention on Chinese social media.
The scandal has largely become not only an education for young women and their families on the importance of safe sex, but also a cautionary tale over the drastic gaps in financial or social status that can possibly lead to sexual exploitation.
Wu's catalog of films, music and reality show appearances have since been removed from the internet and his social media accounts are currently closed.
According to China's Criminal Procedure Law, being arrested usually means the police has sufficient evidence to prove a crime has been committed and believe that the suspect is likely to cause further harm if he remains at large.
Wu's case was opened following an online storm that whipped up in July when an 18-year-old student at the Communication University of Beijing, who calls herself Du Meizhu, claimed on microblogging platform Sina Weibo that, in December last year, the pair had sex after she was plied with drink and lost consciousness at a party at his home.
They reportedly kept in touch until April, which Du regarded as the pair being in a relationship, but later her friend claimed that Wu had given Du the cold shoulder. Du says she is battling a major depressive disorder.
Since then, more than 30 young women, some of whom are under the age of 20, have come forward online claiming to have had similar experiences of varying degrees, or to have been lured into having sex, and Du alleges that there have been several "underage victims" unwilling to speak publicly.
Usually, it would start by being invited to audition for a part in one of Wu's music videos, or to attend a party with a small gathering of fans.
According to New York-based Chinese language media outlet uschinapress.com, California-based attorney, Wang Jing, claims that a former fan of Wu, turning to her, alleges that she had a sexual relationship with the singer when she was under 18, which according to California state law is below the legal age of consent and can be considered statutory rape.
The attorney says she's evaluating the details of the claim and encourages other potential victims to come forward.
Most Popular