From playground to perfection
Share - WeChat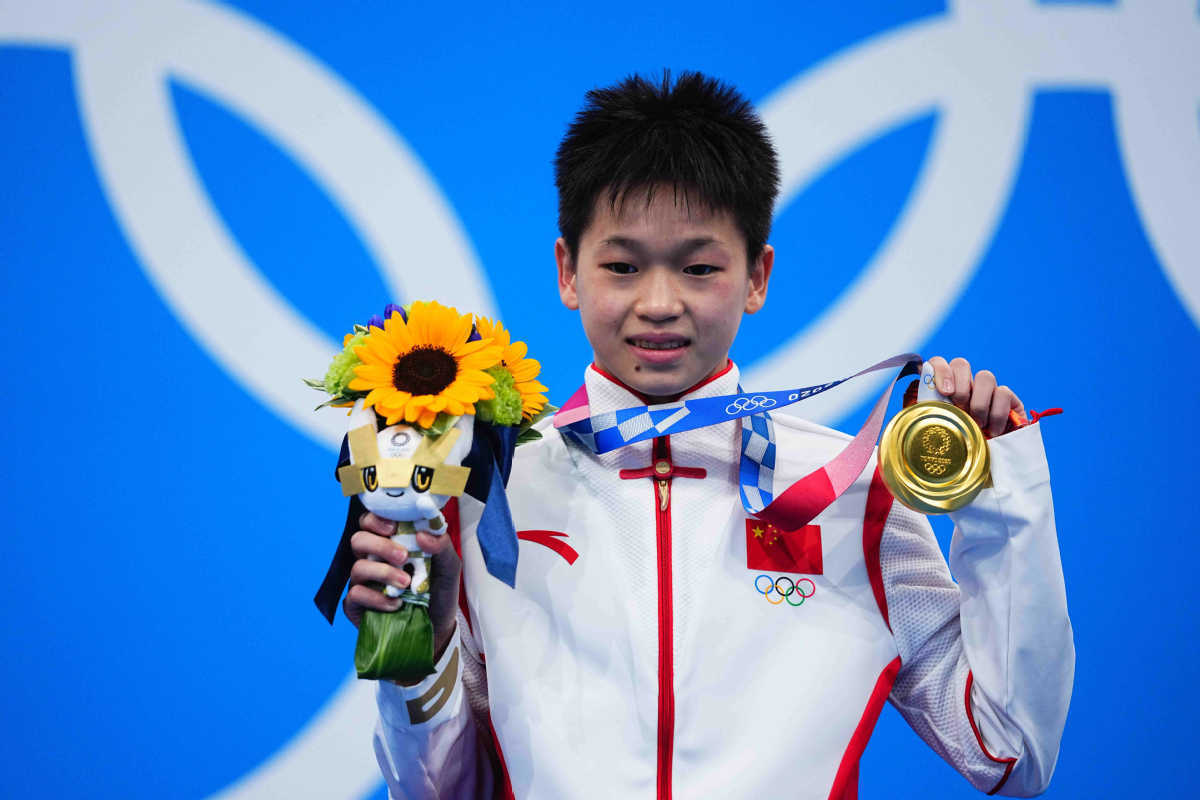 Diving phenom Quan Hongchan reveals how a game of hopscotch ultimately led to her historic Olympic gold
Teenage diving sensation Quan Hongchan wowed the world and thrilled the nation by winning the women's 10-meter platform Olympic title with the highest score in history earlier this month.
Guangzhou landmark the Canton Tower dedicated a special light show to Quan after the 14-year-old delivered three perfect marks from her five dives to claim gold at Tokyo 2020 on Aug 5.
Quan became the second-youngest Chinese gold medalist in the event in Olympic history after Fu Mingxia won the same title in 1992 at just 13. Quan was also the youngest athlete in China's delegation to Tokyo.
Born on March 28, 2007, Quan grew up in the small village of Maihe, Zhanjiang, Guangdong province. She is the third among five children in her family, with an elder brother and sister and a younger brother and sister. Quan started diving at the age of 7 in Zhanjiang and joined the Guangdong provincial team in 2018.
Guangdong has long been a cradle of world and Olympic diving champions, including Chen Xiaoxia, Sun Shuwei, Hu Jia, Yang Jinghui and Xie Siyi.
Quan signaled her massive potential by winning three titles at the Guangdong Junior Championships in 2018 and swept five gold medals the following year. She was selected to the national team at the end of 2020.
Here, Quan reveals more about her remarkable rise to Xinhua in an interview published on the official website of FINA, diving and swimming's global governing body.
Q: How did you start diving?
A: One day, I was playing hopscotch with my friends during a break at school when I was 7. Chen Huaming, a former diver and coach from Zhanjiang City Sports School, gave the thumbs-up to my jumping ability. He said that I was tiny and swift, but able to jump higher and longer than the others. At that time, I was 1.2 meters tall and could jump as long as 1.76 meters. Coach Chen, who was doing his annual work to scout young talents all over the city and in rural areas, went to my home and spoke to my parents. He taught me diving at school in Zhanjiang. I had never tried any other sports before but I enjoyed playing in the water. It was a good start for me that I jumped from the platform into the water ahead of all the other kids without hesitation.
Q: How was your life in the sports school?
A: I was not good at studying but I found confidence in diving. I tried my best to focus on diving, with every requirement that my coach told us. There was an outdoor diving pool and out-of-date springboard facilities in our school. We trained about seven months every year according to the weather. I always had fun in the dry-land exercises. My younger brother and sister later went to my school and started diving, too.
Q: Do you think of yourself as a talented diver?
A: No, no, no. I am not a talent. I focus all my attention on diving and work hard at every training session. Hard work is all I can do. When I entered the national team, I knew that everyone was better than me in technique and was more experienced.