Team China targets safe and successful Games
Share - WeChat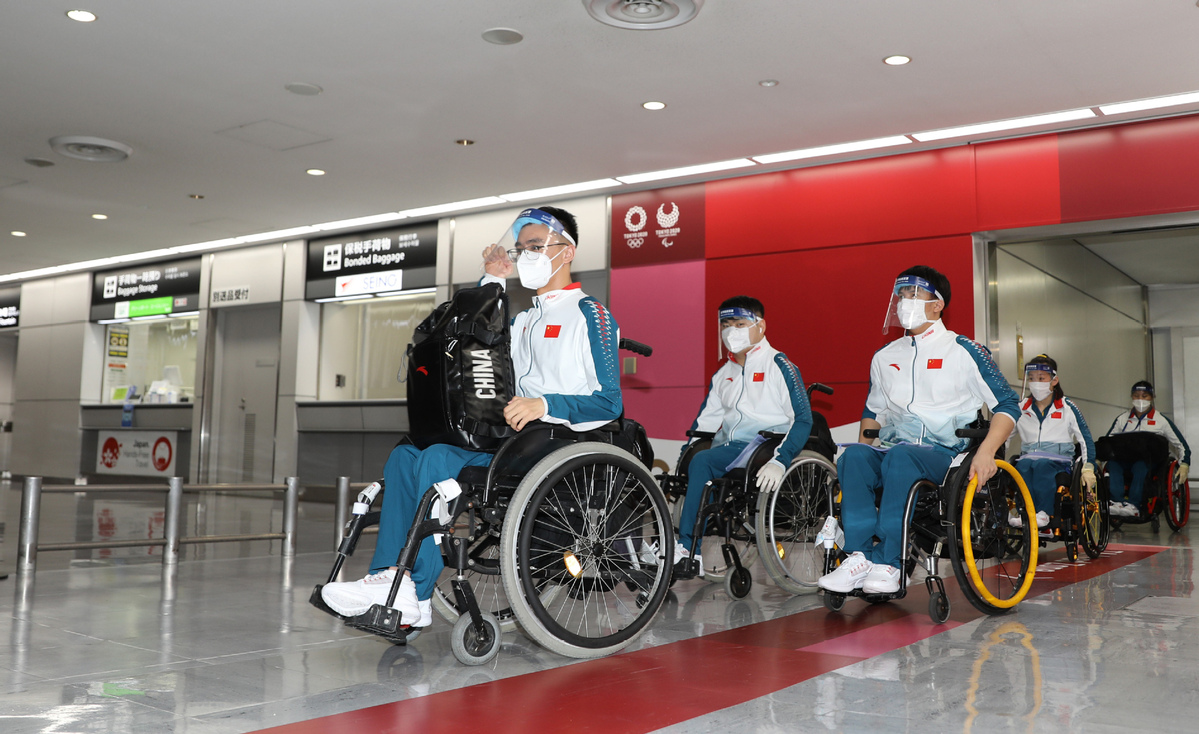 Zhang Haidi, China's chef de mission for the Tokyo 2020 Paralympics, said on Sunday that she expected the team's athletes to do the nation proud at the sports gala, which opens today.
The team will compete in 20 of the 22 sports on the Tokyo 2020 program, representing the most sports China has competed in at an overseas edition of the Paralympic Games. China will go for glory in the two sports debuting at the Paralympics, taekwondo and badminton.
"We have a great mission this time. Despite the pandemic, our athletes still trained hard to participate in the Paralympic Games. Our safety always comes first," Zhang told Xinhua after arriving at Tokyo's Narita Airport.
"We must take all kinds of measures to protect ourselves, and under these special conditions, we will leave no stone unturned in our quest to strive for the best results and win glory for our country," she added.
"Our goal is to compete safely, show good spirit, strive for success and promote friendship."
Chinese triathlete Wang Jiachao said he was raring for the action to get underway.
"The Tokyo Paralympics were postponed for a year, so it was not easy for those of us who kept training for five years after 2016. I am grateful to the organizers for hosting an event that will fulfill our dreams. I am looking forward to making a breakthrough and will enjoy every moment of it," said Wang.
The Chinese team, comprising 132 female and 119 male athletes, comes from a wide variety of occupations, such as farmers, students, civil servants and business owners.
The squad has an average age of 27.5, with 16-year-old swimmer Jiang Yuyan the youngest and 56-year-old table tennis player Zhao Ping the oldest.
All members of the Chinese delegation have been vaccinated against COVID-19, according to the China Disabled Persons' Federation.
At the Rio Paralympics five years ago, China topped the medal standings, with 107 gold, 81 silver and 51 bronze.
Meanwhile, the Chief Executive of China's Hong Kong Special Administrative Region, Carrie Lam Cheng Yuet-ngor, encouraged the athletes from Hong Kong, China to fight for good results at the Games.
The Hong Kong, China delegation totals 64 members, including 24 athletes for eight events, half of whom are debutants.
"Hong Kong, China achieved its best performance in the Olympic Games earlier this month, which thrilled all its citizens, and created an ideal atmosphere for the Paralympic athletes," Lam said.
"I believe with the support of our citizens, the athletes will spare no effort to win glory for us," she added.
At the 2016 Rio Paralympics, Hong Kong, China clinched two gold, two silver and two bronze medals.
The Tokyo Paralympics take place over the next two weeks, finishing on Sept 5.